When most people think of a keyboard, what comes to mind is the device which is used to type on your computer. The meaning of a 'keyboard' has a much different meaning if you ask a locksmith. Locksmiths will tell you that their keyboard is one of their life lines which not only allows them to help a wide variety of customers, but also do so in an extremely organized way. Depending on the locksmith, and the number of services he offers, you may find a variety of keyboard configurations which help them to meet their customer's needs while making their job as easy as possible. We'll examine some of the keyboard configurations which a locksmith may use as well as give our customers a look at the way we at Phila-Locksmith organize our own key blanks.
Locksmith Keyboard Configurations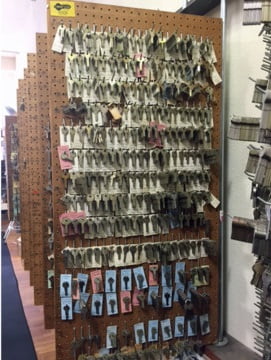 Depending on the type of work that a locksmith completes, and the space he has available, the configuration of keyboards can greatly vary. In many cases, locksmiths are working in restricted areas which forces them to conserve space in anyway possible. One way that a locksmith may try to do this is by using swinging keyboard panels. You can see this set-up displayed to the left. Much like you may find posters in a store, these swinging keyboards allow for the locksmith to maximize the surface area to hold keys while simultaneously minimizing the overall wall space that the keyboard would occupy. Swinging keyboards are an extremely efficient solution for locksmiths with shops that are small in area, or for mobile service units which have extra width in the vehicle. In many cases, a locksmith will take the most straight forward approach and that is a keyboard which simply rests on the face of the wall. Generally, a locksmith who has a board such as this will have the board start at about their waste level and go as high as five feet tall. This allows for the locksmith to maximize his space while also keeping all of his keys within reach. No matter the configuration that a locksmith decides to choose, organization is an important part of their keyboard. By organizing the keys in an easy to remember fashion a locksmith can quickly pull the correct blank for any customers whether they need a car key, residential key or high security key.
Phila-Locksmith's Keys
At any moment, Phila-Locksmith keeps hundreds of key blanks in stock. These key blanks range from residential knobs to high security commercial keys and of course a wide variety of car keys. In addition to these keys, we work closely with suppliers which provides us access to thousands of different keys at a moment's notice. With so many keys which our locksmiths must keep track of, organization is an extremely important aspect. Due to the limited room inside of our mobile services units, proper organization is even more important. In addition to a keyboard which holds many of our technician's blanks, our locksmiths also uses a number of drawers and storage devices to easily organize their truck. It is our wide range of keys and services provided which allows us to be a top locksmith Philadelphia. The careful organization of keys by our locksmiths plays a large role in maintaining our comprehensive range of services to customers.