In the capital city of Riyadh at the Janadriyah Cultural Festival, the largest iron lock in the world is on display. This is definitely not your run of the mill deadbolt lock. Coming in at a size of 5 meters high, about 2.5 wide and 60 centimeters thick, so that is over 16 feet high, and nearly 2 feet thick! Now how is that for home security? The lock weighs about 100 pounds on its own and the key by itself weighs over 8 pounds, if you're thinking about getting a lock like this you might want to invest in a stronger lanyard. The Saudi locksmith who created this lock has quite an interesting tale himself.
During the previous Janadriyah Cultural Festival the locksmith, Anas Mohammad Rajab, displayed the heaviest lock in Saudi Arabia. Obviously he has taken "doing big things" to a whole different level. In addition to creating the world's largest lock only a year after displaying Saudi Arabia's heaviest lock, Rajab comes from a family of locksmiths. His family are the only lock-pickers who have been approved by the Saudi Arabian Ministry of Finance as well as other Saudi departments. The family started from a small craft in a small town about 90 years ago to now becoming the keys and lock industry in Saudi Arabia.
Being the only approved lock-pickers in the entire country of Saudi Arabia must keep everyone more than busy however Rajab has truly dedicated his life to his profession. Not only is he creating his own record breaking locks but he is also an avid collector of old English locks.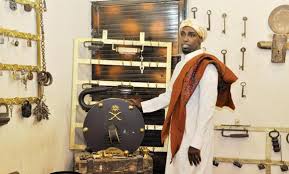 (Largest lock in the world not pictured)