(Via 6abc.com)  recently reported a string of robberies occurring at pharmacies in the Fern Rock and Kensington areas of Philadelphia. The initial robbery, which took place at Amigo Pharmacy early morning on August 20th, showed signs of forced entry to get into the store, but it seems like the unknown men have evolved. Footage from the most recent robbery at Broad and Grange Pharmacy on Monday, September 14th, shows that the thieves used crowbars and power saws to gain entry into the business, as well as to cut and disarm the alarm systems.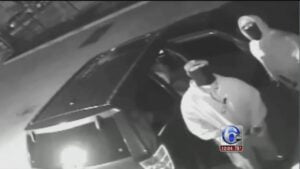 Once inside the pharmacy, the thieves targeted specific medications and even attempted to break into the safe. Footage showed sparks flying in every direction as they unsuccessfully tried to use their hand saws to cut the lock off of the safe. It seemed like at some point their lookout alerted them and they hastily left the scene in a newer model Jeep Cherokee.  The suspects made off with thousands of dollars worth of prescription drugs and authorities are on the lookout for them.
Here at Phila-Locksmith, we find it extremely important to ensure the safety and security for both your home and your business.  We know that to many people, their business is their life and their only source of income, so to take a hit like that is not only detrimental to their business, but to their homes and families as well. It is unfortunate to live in a world where thieves are so prevalent, but we do have a way to help. Our locksmiths specialize in commercial and safe services and we have a plethora of high-security materials that can keep your business protected from those who wish to reap the benefits of your hard work.
Our commercial locksmiths are highly trained individuals who understand the importance of providing heavy-duty, high-security locks to ensure the safety and success of the businesses that we serve.  We offer a variety of keypad locks, push-bars, electric strike locks, and much more to suit the needs of your business. These are locks that are extremely difficult for people to break and manipulate and offer security features that thieves cannot get past. Phila-Locksmith even has technicians who are able to install alarm, security surveillance, and intercom systems that will not only enhance the security of your business, but will also create an image to potential thieves that your company is not a force to be reckoned with. In addition to that, our safe specialist offers safe lock changes and anchoring services to ensure that your safe is protected and secure inside of your business.  If you have any questions we are on call 24/7, please feel free to call us at (215) 554-6109.