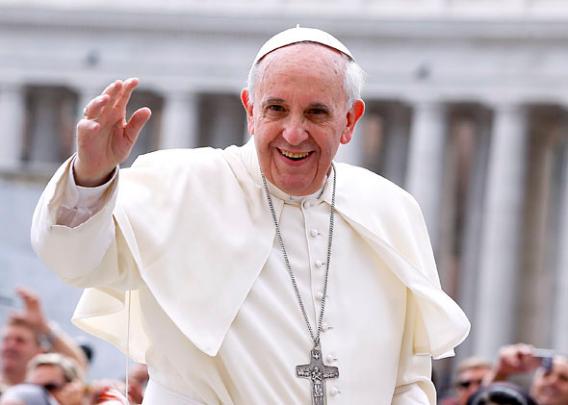 As I am sure all you fellow Philadelphians know, Pope Francis' arrival to Philadelphia is right around the corner. At Phila-Locksmith we love to keep our loyal customers and members of the community posted on current events in our beautiful city. We have gathered some important questions regarding the Papal visit and have provided some tips and answers to help make your life a little bit easier.

What day is the Pope actually getting to Philadelphia?
Pope Francis will be departing New York City early morning on Saturday, September 26th. He should be arriving in Philadelphia around 9:30 am on Saturday, and immediately following that he will be holding a mass at the Cathedral Basilica of Saints Peter and Paul. Now just because he won't be here until Saturday doesn't mean that roadblocks and towing will not be in effect until then.
Dude, where's my car?
If you live in Center City and walked outside in the morning, sipping your coffee, ready to depart for work you may have noticed something big missing…your car! That's right the city of Philadelphia has already started towing vehicles out of the security zone for the Papal Visit. So there's no need to fear, your vehicle has not been stolen, it's simply been towed to a different location as the city prepares for Pope Francis.  We suggest locating the tow yard your vehicle has been taken to immediately to avoid any further fines and holding costs.
What was that about road blocks?
Here's our tip regarding the roadblocks; stay inside! But seriously, traveling throughout the city is going to be extremely difficult. There are roadblocks being set up as early as Thursday night and everything will be in full effect early morning Saturday. The security zone has been split into six separate sectors, they are as follows: Fairmount Park, Ben Franklin Parkway, Washington Square, Rittenhouse Square, Logan Square, and University City. In addition to that you will see backups on major highways due to numerous closures of on and off ramps as well as bridges.
How can I keep my home or business safe?
The Papal visit is projected to cause an influx of over 2 million people to Philadelphia. With the amount of people rising in the city, that means over the next few days the crime rate can directly rise as well. Phila-Locksmith is your go-to-place to ensure that your home or business is secure from unwanted visitors or thieves. With our 24/7 commercial and residential locksmith technicians on call at all times, and a response time as low as 20 minutes, we can help you change your locks, install security cameras, and provide you with a sense of relief knowing that you, your family, or business is safe.
What if I lose my car keys?
As with any huge, major event, people are bound to lose and misplace things. Wallets and car keys are amongst the top of the list. Unfortunately we do not have any wallet-sniffing Blood Hounds here at Phila-Locksmith, but we do have emergency car key specialists who would gladly come out your location and provide you with a new key on the spot. In addition to that, we understand that people may get caught up in all the commotion of Pope Francis' visit that they may accidentally leave their keys in the car, well we offer emergency door unlock services as well. We do suggest keeping your keys on a lanyard or clip so that you can clip or tie them to your belt loops, clip into a bag, or wear around your neck to lessen the chances of misplacing them.
When will the madness end?
On Monday, September 28th, the city will begin returning to its natural state. Overnight on Sunday most of the roadblocks will be lifted and a major clean up will begin and by Monday morning all highways will reopen. In addition to that, all parking restrictions will be lifted. The only difference will be within the regional rail system which will be running on a Saturday schedule as opposed to a Monday one.
Well there you have it, a quick little guide to surviving the Papal Visit. Obviously we are overjoyed that Pope Francis will be visiting our wonderful city, but we just wanted to give our fellow citizens a rundown and a few tips on what to expect for the next few days. And don't  forget, we at Phila-Locksmith will be on call 24/7 to assist you with all your locksmithing needs during the Papal visit. Please remember to be patient with us as we will be battling the same traffic restrictions as you over the next few days. If you have any questions or concerns, please feel free to contact us at (215) 554-6109 any time, any day.